Storm Damage Claims Assessor – Roof wind damage –  Chimney damage insurance claim
Need a Lightning Damage Claims Assessor? Claims Assist can help you recover from unexpected storm damage & roof wind damage. We will ensure you get paid for all your costs and expenses along with providing specialist repair contractors to do the works. Storm damage is unexpected and in Ireland it is something that is frequently experienced. If you experience storm damage in your home, you will often be required to carry out emergency storm damage repairs, in order to prevent further damage to the property.
Expert advice and assistance when dealing with storm damage repairs
Storm damage is often structural damage caused by gale force winds which can result in flooding and rain water accessing the property. Unfortunately, damage can occur as a result of wear and tear (particularly to flashings and flat roof coverings) and this is not 'storm damage' and is therefore excluded from the cover provided by the insurance policy. Similarly, damage to gates and fences is excluded. Sometimes water can overflow from roof valleys or blocked outlets in parapet walls, and the resulting damage can be covered under the escape or overflow of water peril. Storm damage can lead to water damage causing collapsed ceilings, damaged floors and decoration, and can be expensive to repair.
How best to make a storm damage claim.
It is important to have the roof examined by a competent roofer to determine the extent of repairs necessary as a result of the storm damage. A roofers report will be required to support your claim and it is best if photographs can be taken before any emergency storm damage repairs are carried out, so as not to prejudice your position. Its best to discuss the issues with a Claims Assist Storm Damage Assessor first.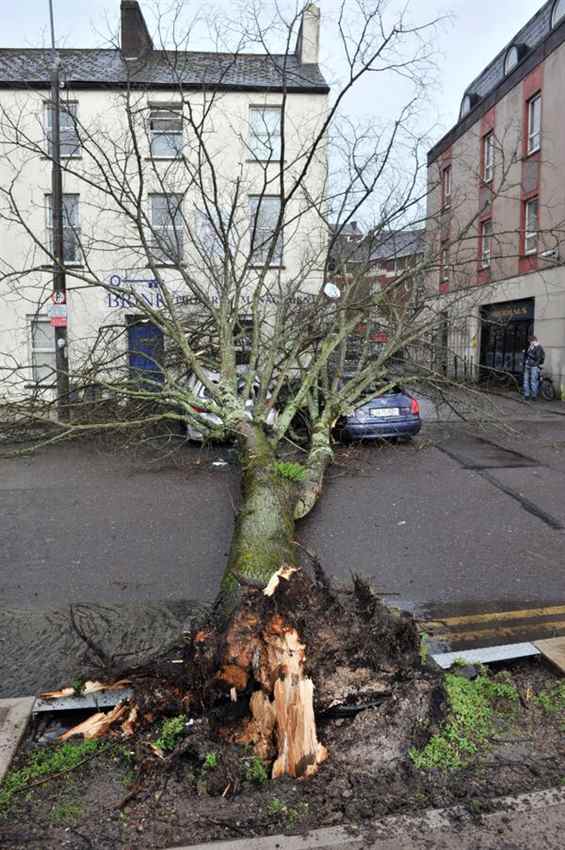 Call our home insurance assessor team today on 0818 929 555
Claims Assist Lightning Damage Assessors offer professional advice based on extensive experience. 'Contact us' and one of our Lightning Damage Assessors will discuss the issues with you to see how we can help you with your claim.  Call us now on 0818 929 555
A minor piece of storm damage such as a missing slate might seem unimportant, but if left unattended it could cause damage, decay, mold and rot to the roof structure, along with ceilings, walls, floors. Do not delay, if in doubt give Claims Assist a shout!
We are building and construction professionals along with being registered to undertake insurance mediation by the Central Bank of Ireland by the Irish Financial Services Regulatory Authority.