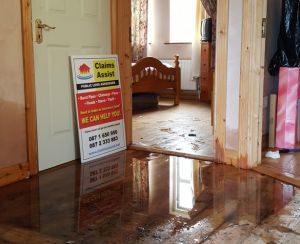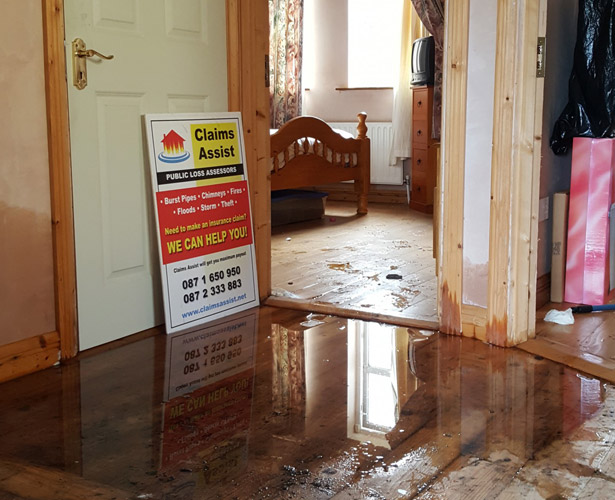 Common Causes of House Insurance Water Damage
For both residential and commercial building owners, many of the claims made against their home insurance policy involve flood damage insurance and water damage of some description. Water Damage Claims can range from small stains on a water damaged ceiling to house flood damage.
House Flood Damage can actually be a common occurrence, though only the large scale events make it to the news. And no matter what the size or the cause of the flooding, water damage always poses the same risks to your possessions, and to the overall integrity of your property.
If you have water leaking through ceiling, flood damage, water damage in walls of house, floorboards warping, wet carpet, hardwood floor water damage, laminate flooring water damage – Call us now to report your claim and to ensure you receive 100% of your settlement payout.
Lo Call 0818 929 555 (Nationwide Service)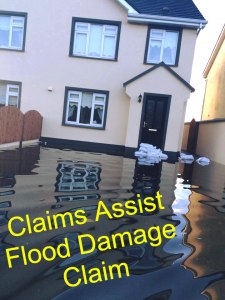 Claims Assist Loss Assessors – flood damage experts
The Causes of Water Damage
With floods/weather conditions aside, the more common, everyday causes of water damage can include broken dishwasher hoses, washing machine malfunctions, burst pipes, clogged toilets, and leaks in plumbing and roofs. Regardless of the size whether it's a pin hole in a copper pipe or a pipe that was blown out of a connection, if undetected it can cause substantial damage to your property. One of the main traits of a leak or an escape of water is that it can often take many weeks for the full extent of the damage to surface, this can be anything from the swelling of floor boards to the rotting of door frames, skirtings and architraves, so it is vital that your property is fully checked out by a professional.
Water damage insurance assessors
Water Damage & Insurance Claims
No matter what the cause of the water damage, whether you are a homeowner or a business owner, submitting an insurance claim can be a daunting/time consuming process. Often, your insurers will appoint a firm of loss adjusters to represent their interests. These loss adjusters will use every means available in order to repudiate your claim, using different clauses to minimize the amount of compensation you receive. This is where an Independent Loss Assessor can be a major asset to you in ensuring you get your maximum payout entitlement under the conditions of your policy.
In the event of water damage to your home, your insurance loss assessor can handle every aspect of your claim from reporting it to your insurance company right up until you receive your settlement cheque . Not only can a loss assessor advise on all emergency and reparation works to safeguard the future of your home, they will also co-ordinate your insurer and their loss adjusters to ensure that you get your maximum payout entitlement.
To arrange a free consultation, a water damage repair estimate or for more information on how Claims Assist Loss Assessors can help you with flood or water damage claims, call us now on 0818 929 555
Here are a few tips from the structural engineers at Conspect.ie & Dublin Surveys  :
How to prevent water damage in your home or property
There are a number of simple and cost effective measures that can be taken to prevent certain common types of water damage in your home. One thing worthy of mention from the outset and often forgotten – when your home is vacant for holidays or prolonged period – ALWAYS ISOLATE AND TURN OFF THE WATER SUPPLY AT THE STOPCOCK / VALVE. This will usually be a provision or term & condition in your insurance policy, but in simple terms if a pipe does burst the amount of damage will be minimized.
Maintenance to prevent pipes bursting and flood damage claims
Lagging exposed pipes. Exposed pipes in attic areas are a common culprit for water damage incidents. Outside the 'warm space' of your home these pipes are susceptible to bursting or splitting during low temperature periods. This then can cause dramatic flooding from the top down destroying plasterboard in walls and ceilings in the rooms below. Lagging the pipework is relatively inexpensive and a simple project to undertake for the DIY'er. Alternatively most building companies will undertake this service in a couple of hours for a low cost.
Another area often overlooked are heating pipes to and from a boiler or oil burner – particularly at the boiler unit if located in a shed or outside your property. During freezing temperatures if not lagged or insulated these can freeze when the heating system is not in operation & pipe splits / bursting can occur further along the pipework inside your property.
Attic water storage tanks / header tanks. The water storage  tank or header tank in your attic space should be insulated on all sides and also have an insulated cover on top. Again a low cost easy project to undertake and tank insulation jackets are available in most builders providers. Pipe lagging should be applied on pipe work to and from the storage tank. The image above shows a tank without any insulation or pipe lagging applied.
hardwood floor water damage insurance claim Dublin
This is the time of year it is common for burst pipe damage insurance claims to lead to laminate flooring water damage and hardwood floor water damage. Burst pipe insurance claims can also leave your floor flooded and may even cause water damage to walls. If you discover broken pipe water damage or a water leak damage in  your house, we can advise you on how to claim home insurance for water damage and ensure a full settlement payout.
Our Insurance Assessors in Galway, Mayo, Ennis, Limerick, Cork, Athlone, Waterford and Dublin can provide claim help with homeowners insurance water leaks, water leak damage to house, leaking pipes insurance claims, burst pipe insurance claim problems and house flooded how to dry out.