Irish homeowners suffer due to under-insurance | Inadequate Home Insurance Valuation.
Ireland has experienced a large number of extreme weather events  over the last number of years (storms, floods, extreme high temperatures, big freezes). Subsequently, an alarming amount of Irish homeowners are discovering that their insurance policies are not covering them for as much as they thought. In some cases there is no cover at all! An accurate home insurance valuation is vital.
As specialist property insurance loss assessors, we at Claims Assist Ireland have noticed a sharp rise in the number of homeowners who have their homes under insured. Unfortunately it's only when they need to make a claim they are advised of this fact.
Under-insurance can seriously affect your claim settlement/payout. Whatever percentage your home is under-insured by, your claim payout is reduced accordingly. This is known as the "Average Clause" and it is in many policies. For any of the larger property claims such as flood damage, fire damage or oil spills, this could have serious monetary repercussions.
One of the biggest mistakes homeowners can make is failing to have enough insurance to cover the cost of rebuilding their home if it's destroyed.
Why you may ask?
Well, many people only take out enough insurance to cover the amount of their mortgage value of their home. The mortgage may only be 80 or 90 percent of the value of the house, depending on the original down payment.
Another common mistake is that some Irish homeowners insure their house for its current market value. In reality, this figure may be far less than the actual cost of rebuilding your home, including labour and materials. In many cases both of those may rise sharply after a storm or flood, when there's big demand and short supply.
What should you do? 
First, calculate how much it would cost to rebuild your home, including labour and materials. Make sure you factor this into your insurance policy and not the current value of the house.
Once you know what it would cost to rebuild, see if your coverage is close to that figure. If it isn't, increase your protection.
When estimating your rebuilding cost, remember to add in what you'd pay to replace any special features in your home, such as marble floors or high-end woodworking.
Be sure you're adequately covered for your valuables, including jewellery, art, antiques and computer equipment too.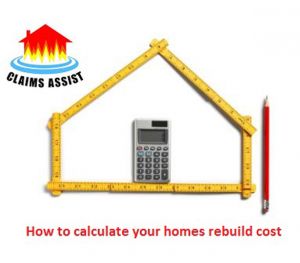 To ensure an accurate rebuild/sum insured cost, we at Claim Assist Loss Assessors always recommend homeowners to use the rebuild calculator
All you need is to know the floor area of your property and follow the instructions outlined to calculate the rebuild costs. It is important to note that insurance companies would argue that the SCSI values are the minimum values that you should use in calculating your insured sum of your home or property.
Claims Assist Ireland are registered professional insurance loss assessors and we offer a complete claims management service on a nationwide basis.
We get all our clients their maximum insurance settlement in a timely manner.
Claims Assist Ireland will also provide you with a free "Insurance check-up" and advise you on how much your home should be insured for.
Call our Nationwide team of registered insurance loss assessors now  (Lo Call number 1890 929 555)
Galway Loss Assessors | Mayo Insurance Assessors | Insurance claim adjusters | Limerick Claim Assessors | Independent loss adjusters Cork | Public Loss Assessors Clare  | VAR Surveys | Claims Assessors Limerick | Dublin Insurance Assessors
https://www.independent.ie/business/personal-finance/property-mortgages/consumers-may-lose-out-if-homes-are-underinsured-30448546.html