Chimney fire Insurance Claims.
We at Claims Assist Loss Assessors know only too well that September is the beginning of a very busy season for chimney fires and chimney flue damage claims across Ireland. Due to increasing numbers of high powered large stoves being fitted, we are continually coming across damaged fireplaces, cracked chimney flues and broken chimney pots as a result of chimney fires.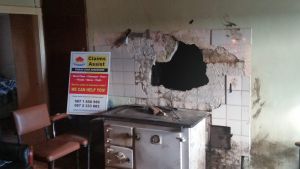 Did you know that the Irish Fire Services are called to an average of 110 home chimney fires every week in Ireland.
The cost of Fire Brigade call outs can range between a several hundred euro flat rate fee and an hourly rate per fire deployed. Fire brigade call out charges are an automatic policy benefit in home insurance policies and should be covered in your insurance claim.
Since the weather is gradually getting colder and the evenings getting shorter we all like to get our open fires or stoves lit to bring back some warmth into our homes.
Unfortunately many of us do not realise that our chimneys should be cleaned beforehand and this is where the problem starts!
Chimney fires occur when deposits of carbon, soot and tar gather in a chimney and are set alight by sparks or flames from a fire. Common solid fuels such as turf, coal, wood and briquettes create some form of soot which without regular cleaning of chimneys, builds up in the flue and eventually catches fire.  It is advisable to ensure that the wood and turf you are burning have dried out adequately before use.  This will reduce the amounts of tar deposits which these fuels produce when burnt.
Chimney fire prevention?
Regular cleaning of your chimney is the only way chimney fires can be avoided.
Chimneys should be cleaned thoroughly at least twice a year to comply with chimney fire safety.
The first clean should be at the beginning of the cold weather period (September), to clear the chimney of debris such as bird's nests, etc. which may have accumulated and also to remove soot that might have caked above your stove or appliance.
The second time should be during the Winter to ensure a chimney fire does not occur.  Obviously if your fire is lit every day and you use varied fuels, you would need to clean your chimney more frequently.
Do not rely on chemicals or powders to clean your chimney!  There is no better method that a professional chimney sweep's brush!
Chimney fires and the Fire Brigade
Many people incorrectly see the Fire brigade as a chimney cleaning service without perhaps realising that severe damage is being caused to internal chimney flue liners with each fire that occurs.
Almost half of all fires attended by Irish Fire Brigades are chimney fires.
Some Local Authorities have applied charges to attend these fires and they can range from a €100 to a €1,000 and above, therefore it is in your interest to ensure that your chimney is swept properly and regularly.
Our loss assessors in Galway, Limerick, Athlone and Dublin have a list of chimney sweeps that we can recommend, so feel free to contact us for a chimney cleaner in your area.
How often should you clean your chimney?
Oil – Once a year
Gas – Once a year
Bituminous coal – Twice a year
Wood – Up to four times a year
Smokeless coals – At least once a year
Most common causes of chimney fires;
Improper appliance sizing
Burning unseasoned wet wood
Creosote in flue liner
Lack of chimney cleaning
Overnight burning or smouldering wood for long periods in wood stove fireplaces
Stainless steel chimney liners fitted incorrectly
Are chimney fires dangerous?
Yes, chimney fires are particularly dangerous in that they can structurally weaken the internal flue liner and chimney stack causing cracks to form, into which sparks may enter and so cause fires elsewhere in the house.  Burning soot may also fall on carpets, timber floors etc. and set them alight.
What do I do if a chimney fire occurs?
The first thing to do is not to panic and ensure the safety of you and your family at all times!
Place a spark guard in front of the fire to stop hot embers/sparks falling out.
Pour water over the fire to extinguish it and keep a supply of water available, should it be needed.
Phone for the Fire Brigade and keep a watchful eye on the fire until they arrive.
How do I know if I have chimney fire damage?
Damage from a chimney fire can often result in one of the following;
Cracked chimney flue liner is impossible to see without getting a chimney cctv inspection. We at Claims Assist Ireland have specialist chimney surveyors who carry out chimney cctv inspections. Insurance companies will require a cctv inspection to be carried out to validate any chimney fire claims.
Chimney leak repair / Chimney leaking water
Broken chimney cap / chimney pot
Blocked chimney flue liner, this will cause smoke to back up into your house
Cracked chimney stack externally or internally
What if the chimney fire damaged my chimney?
Most chimney fires will cause the internal flue liners to crack and maybe even crack your chimney stack externally. This damage is normally covered under your home insurance policy.
Claims Assist Ireland are specialist fire damage claims assessors. We can handle and manage your chimney fire claim from start to finish.
Our insurance loss assessors in Munster, Leinster and Connacht are there to help you through the insurance claim process.
With our vast experience we will ensure that you get all the associated damage covered and repaired under your home insurance policy.
What does an Insurance Assessor do?
Once Claims Assist are engaged to manage your claim, we will;
Report your claim to your insurance company.
Meet your insurer's representative (known as a loss adjuster) at your home.
Quantify & cost all the associated chimney fire damage.
Prepare a comprehensive claim submission in a format that is required by your insurance company.
Ensure a speedy and maximum claim settlement payout.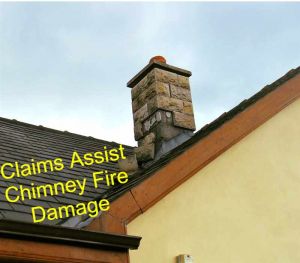 Claims Assist Ireland have insurance claims assessors covering the country including Galway, Dublin, Limerick, Clare, Kildare and Athlone. We also have a network of specialist chimney repair contractors for chimney relining who have many years experience in insurance repair works. Claims Assist operate on a "NO WIN NO FEE" basis. We are always available to give free insurance claims advice to our customers who have suffered chimney fire damage.