Chimney Fire Damage Insurance Claim
Experts in the area of chimney fire and chimney damage, we have managed and successfully completed many chimney fire damage insurance claims
Covering areas from Dublin to Galway, Limerick to Kildare –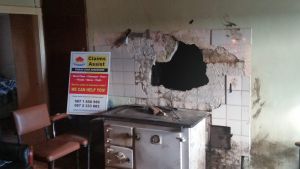 Claims Assist specialise in helping homeowners with;
Chimney fire damage insurance claims.
Fire and smoke damage insurance coverage on chimney
Chimney CCTV Survey for chimney fire insurance claim
Cracked Chimney Insurance claims.
Report your Chimney Fire Damage Insurance Claim Here
CCTV Camera Inspections after Chimney Fire Damage.
A necessary step in the process of making an insurance claim is often a CCTV Survey. This survey will determine damage to the internal flue liner. Claims Assist only use chimney contractors with specialist chimney cctv cameras.
Our insurance assessors have vast knowledge in home insurance claims. We know the requirements in submitting a successful cctv survey. We will report your claim to the insurance company. Thus in turn taking the burden away from the homeowner. Secondly our team can help with any queries you have relating to your insurance policy. Thirdly, we will meet your adjuster on site to discuss your claim in detail.
The CCTV camera is specifically designed for chimney inspections. A 'Pan and Tilt' head will enable a full and comprehensive 360° view of your chimney. For instance, pictured is a recent chimney cctv survey we carried out. It clearly shows damage as a result of a chimney fire.
However, if the fire brigade are called as a result of the chimney fire, the insurance company's loss adjuster may not require a cctv camera inspection.
Footage is recorded during the survey and copied to a disc. The Adjuster can make an informed decision on viewing the survey.
A detailed report can accompany this recording if required by insurers. A chimney survey report will outline the condition of the chimney flue along with the exterior of the chimney stack.
Therefor thorough cleaning is recommended to ensure high quality CCTV results.
Chimney Fire Insurance Repairs.
Claims Assist have a network of chimney repair companies & insurance repair specialists
To conclude, the following issues are worthy of our expertise..
Chimney flue inspection | chimney stack repair cost | cost of rebuilding chimney stack
Cost of relining a chimney | Chimney liner repair | Cost of chimney repair | Chimney liner cost
Chimney stack repair | Chimney fixers | chimney liner installation | chimney inspection report
Chimney inspection cost | Chimney camera survey | Chimney cctv survey
 Loss Assessor Galway| Insurance Assessors Limerick | Insurance Assessors Mayo | Chimney Fire Insurance Claim | Chimney CCTV Price  | Chimney fire damage insurance coverage | chimney inspection cost |