Chimney Fire Insurance Assessors
As experienced Chimney Fire Insurance Assessors we have managed a large number of chimney fire insurance claims all over Ireland.
From period homes in Dublin to country farmhouses on the Wild Atlantic Way, we have seen them all. And we know what to do next!!!
As Loss Assessors we will process and manage your insurance claim.
Chimney CCTV Survey
The first physical step in the claims process is a chimney CCTV Survey.
Very often, Insurance Companies now require a detailed CCTV Survey inspection of a chimney flue after a chimney fire incident. A detailed survey on chimney flue damage can help in ensuring a successful chimney fire insurance claim.
Our team use specialist survey cameras, which are purpose built for chimney surveillance. The camera will record footage of the internal walls of the flue. This therefor will pick up any defects in the form of cracks or fractures that may appear on the liner.
On seeing evidence of fire damage in said CCTV footage your insurance company should then accept liability. Once liability IS accepted chimney contractors can then begin repairs and reline the stack.
Chimney camera surveys can also give:
an accurate distance to blockages
access to smoke leaks
chimney routes
many more surveying issues
Chimney Repair services..
Having been in the industry for many years we have collected a wealth of knowledge. We can offer assistance to anyone who has had a chimney fire or needs insurance claim help.
Compiling a list of chimney repair specialists nationwide, we can offer much needed advice in this area.
Other issues..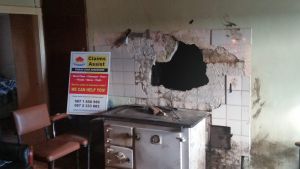 Claims Assist, leading chimney fire insurance assessors, can help with the following chimney problems;
Leaking chimney
Damaged chimney flue repair
Cracked chimney stack repair
Chimney inspection cost
To arrange for one of our CCTV chimney surveyors to carry out an inspection on your chimney?