Time and time again we deal with the issue of Under Insurance.
The Term Under Insurance means exactly what it says on the tin.
Your property is not insured for its correct value.
In a recent article RTE Business Journalist, Brian Finn, shone a light on the importance of correctly insuring your property.
What does Under Insurance mean in the event of a claim?
For example:
You have had a water leak at your home and you need to make a claim
Your Claims Assist Loss Assessor will meet the Loss Adjuster assigned by your Insurance Company.
The Loss Assessor determines the damage will cost €40,000 to repair.
After agreeing the extent of repairs, and measuring the individual rooms affected, the Adjuster will carry out a VAR of your home. (The 'VAR' (Value At Risk) is determined by getting the square footage of the home. Included in this are sheds, garages, boundary walls, driveways etc.)
Unfortunately the Loss Adjuster determines you are 50% under insured.
Your Insurance Company agrees that John is right, €40,000 is the repair cost. Due to the Loss Adjusters calcualtions and applying the under insurance reduction you were deducted 50%.
This means you receive only €20,000. Leaving you to fund the rest of the repair – IF YOU CAN AFFORD IT.
The Avergae Clause:
Most home insurance policies contain an average clause. If your property is deemed to be under inured by 50%, you are deducted that percentage accordingly. It is worth noting that with most Insurance Companies if your home is insured within 15% of what it should be the Average Clause may not be applied.
What exactly is insured?
When insuring our homes, we sometimes neglect to take into consideration what is outside of the four walls of our house.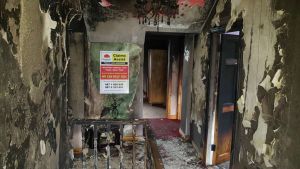 For instance, you have a garage at the rear of your home. Is it listed on your insurance policy? Could you afford to rebuild this structure if it were destroyed by fire? This is why you cannot afford to not insure your property correctly.
How do I calculate my property Insurance?
Separate to the issue of exterior structures, do you know if your home is fully protected by insurance cover? Many of us insure our property for the RESALE value of the home.
In fact the correct valuation is the current REBUILD VALUE.
Never has this been more important. We are hyper aware that the cost of materials has increased since Covid Lockdown.
Rebuild costs take into account factors such as Demolition, Site clearance, Engineers fees and so on.
Home Rebuild Calculator: 
To correctly assess the cost of your home insurance visit our Rebuild Calculator
This has been compiled using information from the SCSI.
Am I correctly insuring my home?  
If you are still unsure about the insurance premium on your property we can help. Call our office on 0818 929 555 and  talk to our experts.
We'll be glad to help.