OIL LEAK DAMAGE CLAIMS
With our vast experience in managing oil tank leak insurance claims, we know only too well that it is essential to deal with a home oil tank leak or Business Oil Spills in a speedy and efficient manner.
If an oil leak in house is left untreated, oil, diesel or kerosene can have long terms effects on concrete foundations, floors or walls of a property.
The Independent Insurance Assessors & Loss Adjusters at Claims Assist regularly work on oil spill insurance claims and we have a Network of Oil Spill Contractors who know how to clean up oil spills on cement and are experts in heating oil spill clean up.
For useful tips on what to do after home heating oil spill or oil spill clean up, click here Home Oil Spill & Home Oil Leak Advice.
What to do if your oil tank leaks – Call Claims Assist Ireland now to find out more 0818 929 555
If you would like to know the cost of oil spill cleanup in your home or property, call 0818 929 555
Home oil tank leaks can pose a significant risk of contamination to the subsoil, subfloors, and can cause noxious smells which are harmful if left untreated. Furthermore issues can present dependent on the gradient of the site or your property which can contribute to the migration of the oil leak, for which a home owner can be held liable. This is possible as an oil leak will move with water and find the lowest point on the ground.
Oil Spill fumes and heating oil fumes can penetrate carpets and soft furnishings, which may not be possible to salvage. Your insurance policy cover should allow for a full and thorough clean up, which is completely necessary to prevent further problems that commonly arise with oil leaks.
Call now for FREE oil leak insurance claim advice on 0818 929 555, our expertise will prove to be invaluable.
Managing the risks associated with oil spill 'Prevention & Procedures'
Claims Assist Ireland have a well known and established Insurance Claims Management Team. We have direct access to a nationwide network of Oil Spill Clean Up Specialists. These experts will analyse the contamination of your oil leak in house and provide a conclusive report with detailed findings, recommendations and quotation for the necessary clean up works.
Your property or home may be uninhabitable & temporary accommodation will then be required. These are just some of the associated costs with an oil leak insurance claim. It is therefore essential to have the guidance & representation of a Registered Independent Public Loss Assessor. A specialist oil damage insurance assessor will accurately report on the extent of the damage and quantify the full extent of the required remediation after the oil leak incident.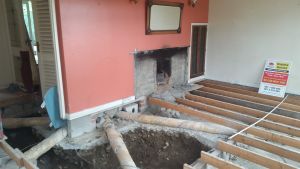 Contact our Oil Spill Team at Claims Assist Loss Assessors for a free no obligation initial consult. We can provide advice on how to clean up heating oil spill, how to clean up oil spills on cement or heating oil spill clean up insurance claims – From Galway to Dublin and Limerick to Waterford, Call us on 0818 929 555.