COMMERCIAL FIRE DAMAGE CLAIMS
If you ever suffered a fire at your shop, office, workshop or commercial premises, it is, to say the least, a very traumatic and upsetting experience. Fortunately, you're well prepared. You have a solid insurance policy covering your livelihood against such eventualities. You've paid your premiums on time, year after year. That's the good news. The bad news is that the ensuing fire damage insurance claim you're about to make will more often than not be complicated with so many difficulties that the stress of the fire will appear minimal by comparison.
Your insurance company will instruct a firm of Loss Adjusters to act on their behalf. While the loss adjuster is often introduced as being independent and impartial on the matter, the reality says otherwise. The loss adjusters are paid by the insurance company and are there to represent their best interests. As far as the insurers are concerned, the loss adjuster doing a good job means reducing the final settlement in your fire damage insurance claim as much as possible and, ideally, enabling them to decline cover entirely.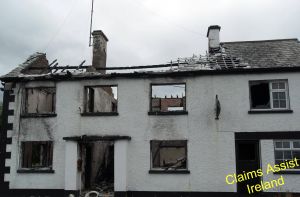 Call our home insurance assessor team today on 0818 929 555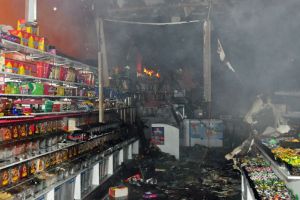 Even in situations where you stand a good chance of eventually receiving the settlement you're entitled to and having your premises restored to the pristine condition it was in before the disaster occurred, the proverbial obstacle course you'll have to navigate is a minefield of pitfalls and potholes. You'll be bombarded with a barrage of seemingly irrelevant questions spanning across various meetings and will have to produce pages worth of schedules of damaged items. Often if you cannot produce substantiating evidence for all of the damaged items, the loss adjuster will try to decline cover for them or at least substantially reduce the pay out for your fire damaged stock & even fire damaged components of your building. The fire damage insurance claims process is fraught with complexities and pitfalls that require expert negotiation and advice from our team of loss assessors.
Of course, in commercial fires it is not merely a question of having the premises repaired and replacing ruined stock. You will have to claim for the losses incurred from the interruption to your business, and this often involves claiming for temporary relocation to alternative business premises while repairs are being undertaken. Once again, and particularly in the current economic climate, your insurers will seek out every avenue that may enable them to accuse you of failing to comply fully with the policy and to thereby repudiate your fire damage insurance claim. Frequently we see insurers declining claims for a number of reasons that are arguably invalid.
As Loss Assessors, our sole purpose is to represent you and ensure you get your maximum pay out entitlement under the terms of your policy. We are experts in claim negotiation and can ensure that you get the very best settlement possible under your insurance policy. We will manage your entire claim from start to finish, taking all of the stress and burden away from you and ensuring the claim is not put in jeopardy due to one or two simple errors.
We work on a "no win – no fee" basis in which our fee is calculated as a percentage of your final settlement. This means that negotiating a bigger settlement for you equates to a bigger payment for us. There could be no better incentive to do the very best job for you that we possibly can. We're on your side.
We believe that due to our vast knowledge and expertise we are the best at what we do. Our claims management is second to none and our persistence and determination always gets the best results for our clients.
If you have an outstanding insurance claim problem, we will give you free, open and honest advice as to how we can help. If we cannot help you or we believe that our fees are disproportionate to the size of your claim, we guarantee you that we will still spend time with you over the phone and give you all possible assistance at no cost, since we strongly believe that the people we give good advice today may become our clients of tomorrow.
Call our office on 0818 929 555 for advice on how to proceed.