What to do after a chimney fire..
If you have suffered a recent CHIMNEY FIRE, the first thing you need to do is contact a registered Loss Assessor like Claims Assist. We are experts in chimney fire damage insurance claims
We will arrange a chimney cctv inspection of your flue liners. By carrying out this cctv survey of your chimney we can determine if your flue liner is cracked or damaged. If chimney fire damage is visible we can report your claim to your insurance company.
As insurance claim specialists we will ensure that all the resultant damage is covered under your insurance. With our loss assessors expertise in chimney fire claims, we will get your claim settled in a swift and stress free manner.
Claims Assist ensure you get your maximum claim payout under the terms of your policy.
Chimney Fire Damage Insurance Claim Specialists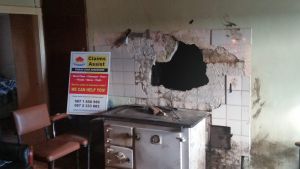 Once claim settlement figures have been agreed between our loss assessors and your insurance company's loss adjusters, you will receive your first settlement cheque.
This payment will be approximately 70% of the total claim payout. The remaining 30% which is held in retention.
What does retention mean in insurance terms?
Retention in insurance is when the remaining balance of monies in a claim payout is held pending final VAT invoices and photos of completed works.
These are submitted to insurance loss adjusters or your insurance company when chimney repair works are complete. The contractors invoices have to total the full amount of your claim payout including your excess, before they will release the retention held.
Simply put, the retention is the money retained by insurers until they get all the proof that the agreed works are complete.
Are you aware; 
Damaged chimneys increase the risk of fire damage.
Cracks in your chimney can cause serious health risks such as Carbon Monoxide poisoning.
Combustible soot and creosote can escape through these cracks leading to what could be a fire that cannot be contained in your chimney flue. A 'small' chimney crack could be a symptom of something much more serious.
Will the cost of chimney repairs be covered by your insurance company?
Insurers often refuse to pay for a claim at all, or pay out too little.
Without Claims Assist Insurance Loss Assessors expertise, specialist knowledge and detailed claim preparation, the homeowner is at a very serious disadvantage.
For you to get the best settlement, you should use a registered public loss assessor.
CLAIMS ASSIST LOSS ASSESSORS are here to work on your behalf.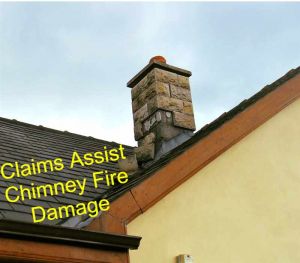 What Claims Assist Loss Assessors can do for YOU:
We are qualified and experienced in both insurance claims and construction.
With our expertise in both fields we strive to get you the full maximum payout you are entitled to.
We recommend only experienced contractors specializing in insurance repairs who produce guaranteed work in an efficient manner with the least amount of disruption to you and your family.
Ask yourself this question; Why are you paying for insurance if you are not going to make a claim when the need arises? Act now!
• Most insurance companies REFUSE claims when reported late.
Call CLAIMS ASSIST IRELAND on 0818 929 555

 
Protect your family, yourself and your financial interest in your home.
This advice can save lives and save you, the homeowner thousands.
Examine your chimney visually from the outside.. 
If any cracks are visible or any other defects noted you should get expert advice to determine if the matter is serious or warrants further investigation.
A chimney CCTV Survey may be required Nationwide Chimney CCTV Surveyors