Burglary & Theft Insurance Claims Assessors.
Over the last number of years the insurance claim assessors at Claims Assist Ireland are noticing a steady increase in burglary and theft insurance claims across the country, both in cities and rural/farm areas.
This week alone our claims assessors are in Dublin, Limerick, Galway and Cork processing burglary and malicious damage claims and with the evenings getting shorter there is undoubtedly going to be a rise in theft insurance claims.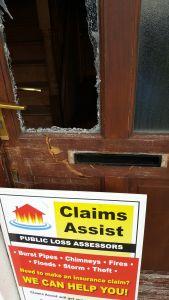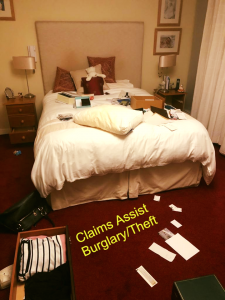 Here is a county by county breakdown of  theft and burglary incidents being claimed for in Ireland.
The survey shows that Dublin was in ninth place on the list (average claim €3,467), while residents in Mayo claimed for the least theft last year (€650). Homeowners in Cork claimed an average of €3,208.
AA Home Insurance, which conducted the research, is advising people to lock up their valuables before setting off on holiday.
The highest average theft claim, which combines the cost of damage to the home and items stolen, was made by homeowners in Co Wexford at €6,624. Co. Louth came in at second place with burglars causing damage and making off with valuables in claims worth an average of €6,286, while counties Meath (€5,348) and Longford (€4,663) followed behind.
County-by-county breakdown:
WEXFORD – € 6,624
LOUTH – €6,286
MEATH – €5,348
LONGFORD – €4,663
LEITRIM – €4,639
LAOIS – €4,042
OFFALY – € 3,953
WICKLOW – € 3,513
DUBLIN – € 3,467
ROSCOMMON – €3,400
GALWAY – €3,233
CORK – €3,208
KILDARE – €2,921
CARLOW – €2,893
TIPPERARY – €2,780
CLARE – €2,442
KERRY – €2,433
WATERFORD – €1,816
SLIGO – €1,808
KILKENNY – €1,681
ULSTER COUNTIES – €1440
WESTMEATH – €1,425
LIMERICK – €1,294
MAYO – €650
If you have suffered a burglary or theft in your home or business, call us now to ensure you get your maximum payout entitlement under the terms of your policy. We can walk you through the theft insurance claim process and give you the best advice in making  a home insurance claim. Lo Call 1890 929 555
Claims Assist Ireland – Insurance Loss Assessors
https://www.breakingnews.ie/ireland/these-counties-claimed-most-on-house-insurance-last-year-740279.html