Fire Damage Claim | Insurance Loss Assessors Limerick
Fire damage to any home or property can be an extremely stressful and costly experience.  After ensuring the safety of you and your family, there is an immediate worry of getting your home back to its original condition. Our vastly experienced Fire Damage Loss Assessors Limerick can help you.
Claims Assessor Limerick

Fire damage claim specialists

No. 1 Insurance Assessors for fire damage assessment.
With any fire damage insurance claim, there are two main elements that need to be considered;
Primary Damage = Damage is caused by direct flames to the building or to objects inside of the building.
Secondary Damage = Damage is caused by corrosive substances such as smoke and water from extinguishing the fire.
Secondary fire damage can often cause the most damage to the building. This is because smoke and soot can work its way throughout the structure.
Secondary damage is often very hard to prove, especially to an untrained amateur homeowner. An experienced fire damage assessor will not only identify all the obvious fire damage, but will also be able to detect the hidden damage. Secondary damage must be pointed out to the insurance company's loss adjuster at the time of their inspection. If not, this damage will simply be ignored, leaving you with a poorly repaired fire damaged house.
What to do after house fire damage, talk to our House Fire Damage Loss Assessors Limerick.
If you have house fire damage in your home, the following steps should be taken immediately;
Call your local fire brigade to fully extinguish the fire in a safe and comprehensive manner.
Contact a specialist fire damage claim insurance assessor. Our fire claim assessors advise you on the immediate steps that need to be taken to comply with your policy conditions. In doing so, this forms part of the strategy that ensures you achieve a full claim payout. A full claim settlement allows you to repair all the fire and smoke damage to your home.
Do I need an assessor to make a claim?
Experienced Insurance assessors play a vital role in processing and managing fire damage insurance claims. Homeowners that handle their own fire insurance claims, quickly realise that they are out of their depth and a specialist is required.
Your insurance company employ their own specialists, known as loss adjusters. They will interpret the policy in favour of the insurance company. An amateur homeowner is no match for a specialist loss adjuster. Your Insurance Company will pay the loss adjuster to minimise your claim payout, thereby saving money and increasing profits.
What does a Loss Assessor do?
Report your claim to your insurance company – Claims Assist will contact your insurance company on your behalf. Your insurance company will then appoint their own fire claims adjuster to deal with your claim on their behalf. The insurance adjuster works solely for the insurance company, not for you!
Meet with the insurance Loss Adjuster – The inspection of the fire damage property is where the full extent of the necessary repair work is outlined and agreed.
Insurance Claim preparation – Claims Assist will compile a comprehensive scope of works & costings of all the fire and smoke damage to your home. We also prepare and process other documentation that may be required. This may be necessary to validate your fire insurance claim and get insurers to accept liability and pay for your loss or damage.
Insurance Claim submission – Our insurance loss assessors will undertake detailed negotiation of the amount of settlement with the insurance loss adjuster. These negotiations will ensure you receive the maximum payout you are entitled to under your insurance policy.
Acceptance of a settlement € – Once the settlement figure has been reached, Claims Assist will not accept any offer without your approval.
Receiving your settlement cheque – Claims Assist will continue to monitor your claim closely until your settlement cheque is in your hand!
How Much do Insurance Assessors Charge?
Insurance assessors charge a percentage of the overall claim settlement. The standard industry rate is typically 10%. This percentage may vary depending on the type & extent of property damage. Fees are completely performance based. As experienced insurance assessors, Claims Assist can more than cover their costs. This is achieved by an in-depth knowledge of insurance policies, construction technology and current building rates.
Commercial Fire Damage Insurance Assessors Limerick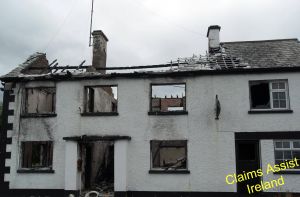 House Fire Loss Assessors Limerick & Nationwide.
If you have suffered fire damage to your home or property and you need an experienced Fire Claims Adjuster in Limerick, Galway or Dublin, call us now 0818 929 555
Stages of a fire damage insurance claim
Below is one of the many kind reviews we have received over the years from an extremely happy home owner;
K Melvin
18 Jul 2018
Just wanted to write a quick note here to say how thankful I am to Claims Assist and especially John Mannion for all they done for me and my family. We had the horrible experience of having a fire! After the Fire Brigade Crews left we were advised to contact Claims Assist immediately and within hours they were out to us. They arranged a place for us to stay, they contacted and met with my insurance company and they even arranged a builder for us to undertake all the repair works. Yes having a fire is a very traumatic experience but Claims Assist certainly helped us with their comforting and reassuring words and their experience in insurance claims. Very happy with our settlement! Thanks again Claims Assist
Fire Damage Insurance Claim Questions;
I have had a house fire, what do I do now?
How do I report a house fire insurance claim?
Smoke damage, what will i do now?
Loss of accommodation after house fire, will insurance company pay?
Electrical fault caused my house fire, is this covered in policy?
Who does insurance company send out after house fire?
Fire damage in my holiday home, is this covered in my insurance?
How to replace personal documents destroyed in fire?
How do I replace goods after house fire?
What is fire brigade fee for house fire call out?
Do I need a report from fire brigade to report fire damage insurance claim?
Loss adjuster definition
ANSWER – Contact an insurance loss assessor. A claims assessor will immediately report the claim to your insurance company. If required, they can arrange cover for alternative accommodation after house fire. They will liaise with your insurance company's representatives on site and ensure a swift settlement. An experienced insurance assessor will know exactly what is covered in your policy. Contact us now on 0818 929 555 for free, friendly, expert fire insurance claim advice.